Cryogenic storage tank manufacturers teach you how to use cryogenic storage tanks
Update time:2020-09-25 Click:546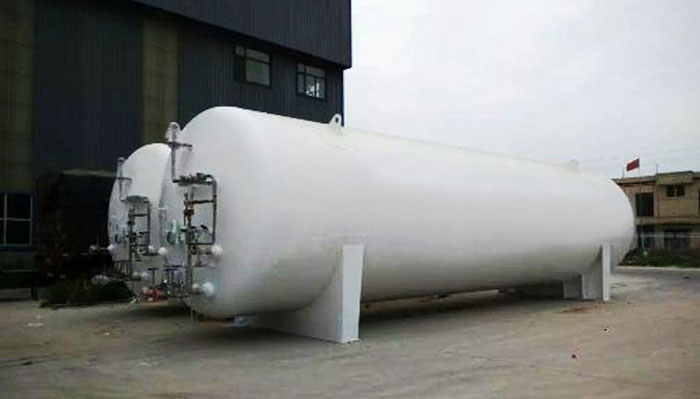 Cryogenic storage tanks are used to store and supply cryogenic liquefied gas. Jacketed vacuum powder adiabatic pressure ventilation is widely used in industrial production and daily life. Cryogenic storage tank manufacturers analyze the hazardous characteristics of cryogenic liquids and combine cryogenic liquid storage. Various gas supply modes, let's have a brief understanding of how to use it safely with the cryogenic storage tank manufacturer!
The boiling point of cryogenic liquid at 101.3KPa pressure: liquid nitrogen is -196°C, liquid oxygen is -183°C, and liquid argon is -186°C. When in contact with the human body, it will cause severe frostbite to the skin and eyes. When a small amount of cryogenic liquid leaks or a pipe valve leaks, it will absorb the heat of the surrounding environment, and the leakage point will quickly condense and frost, and in severe cases, it will freeze.
In the surrounding environment of cryogenic storage tanks, cryogenic liquid leaks and vaporizes easily to form gas-rich areas. Larger concentrations of nitrogen, argon, and carbon dioxide are more likely to cause suffocation damage. In addition, when the oxygen concentration is high, oxygen-enriched damage will also occur.
Oxygen is a strong combustion-supporting agent with strong oxidizing properties. Liquid oxygen is close to combustibles and is more likely to burn when exposed to open flames; contact with combustibles can easily cause detonation due to vibration and impact; mixed with combustibles, there is a potential explosion hazard. Liquid oxygen can adhere to clothes and fabrics, and can easily cause flashover when it encounters an ignition source, which can cause personal injury.