Above ground tank
Release time:2019-03-26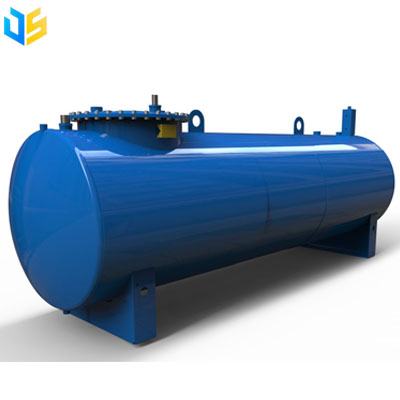 Single wall fuel tank description:
  The difference between single-layer fuel oil tank and a double-layer fuel oil tank is that it has only one layer of carbon steel, The single layer fuel tank including manholes, oil inlets and oil outlets, sewage outlets, liquid level gauge mouth, air vents valve, and support saddles.
Application:
  It can used to store crude oil, gasoline, diesel, petrol, vegetable oil and kerosene or other petroleum products, as well as solid or liquid, alcohol.
Specifications:
This is part of the model. According to customer requirements ,we accept customized.
Volume(m3)
Nominal parameter(mm)


Cylinder length(mm)


Thickness(mm)


Weight
(KG)


Head/Cylinder


5
φ1600
1870
5/6
1077
10
φ1800
3280
6/6
1793
15
φ1800
5240
8/6
2800
20
φ2200
4500
6/6
2975
8/8
3580
25
φ2200
5760
8/8
3152
30
φ2400
5750
6/6
3621
8/8
4523
40
φ2600
6600
8/8
5512
10/8
5770
50
φ2800
7100
8/8
6260
10/8
6555
100
Φ3000
14600
12/12
11800