Mobile filling station
Release time:2019-03-26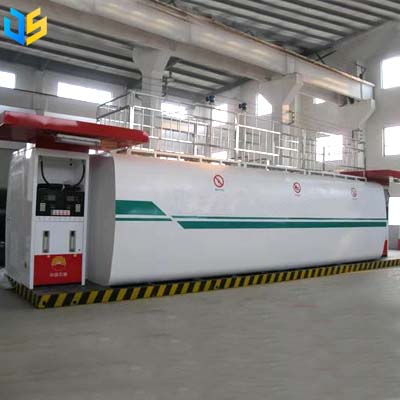 Mobile filling station
  Barrier explosion-proof mobile filling gas station (container) is a ground mobile gas station integrating storage tank, refueling machine and video monitoring.
  Barrier explosion-proof skid mounted gas station (container) storage tank for barrier explosion-proof technical transformation.
  Barrier explosion protection technical reform is to cut off materials (block explosion-proof material is a network organization with a special aluminum material) in a certain way of density populated in the storage of flammable and explosive liquid storage tanks, when subjected to a flame, static, impact, lightning, shooting, welding, won't be an explosion when violent crash accident.
Features
  (1) Equipped with explosion-proof materials, which are intrinsically safe and reliable, and will not explode in case of shooting, fire, lightning, etc.;
  (2) Inhibit oil and gas volatilization, with oil and gas recovery function;
  (3) Set up oil leakage monitoring device to avoid pollution of groundwater resources caused by oil tank leakage;
  (4) Can accommodate three different sizes of fuel, can be configured with 1-2 tanker, to meet different fuel requirements;
  (5) Short construction time, low cost, small footprint, mobile, standard modular design, suitable for a variety of fuel supply environment;
  (6) anti-corrosion, anti-leakage, long service life
Applications
  Using range
  seasonal requirements;
  (holiday attractions, marina, agricultural areas, etc.)
  construction sites,
  The mining industry,
  fuel supply for large fleet and internal gas stations (large enterprises, transportation companies, etc.),
  different filling systems: hospital filling system, Marine fuel filling, outdoor storage tank construction, different liquid conveying devices.
  Standard configuration:
  Leakage indicator, control panel, thermal insulation
  Speculum, thermometer, pump, liquid inlet and outlet
  Ventilation device, liquid level gauge, explosion-proof storage tank.
  Refueling system.
  Unload the system.
  Explosion-proof distribution system.
  Oil and gas monitoring system.
  Liquid level monitoring system.