LCO2 cryogenic tank
Release time:2019-03-26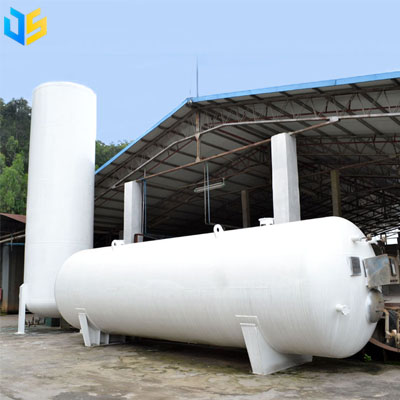 Description
Liquid carbon dioxide by vacuum powder adiabatic tank, storage tank temperature -40 ℃ to design work.Depending on the working conditions, the main materials can be OCr18Ni9 or 16MnDR.
Material: The inner layer is 16MnDR alloy steel
The outer layer is carbon steel Q345R
The middle vacuum layer is filled with pearl sand
Application Scenarios
Products are widely used in metallurgy, chemical, food, fire and other industries, with a compact structure, safe and reliable, easy operation and maintenance advantages.
1. Used in the production of alkali industry, sugar industry, and carbonated beverages
2. Used for the quenching of steel castings and the manufacture of lead white.
3. Widely used in the field of welding. For example, carbon dioxide gas shielded welding is currently the most widely used method in production.
4. Use carbon dioxide spray paint, dry quickly, good gloss, no toxic pollution.
5. Low concentration of carbon dioxide can promote breathing, so it can be used for medical treatment.
Advantages
  1. Adiabatic performance:
  Thermal insulation material selection of pearlite sand filling sandwich and vacuum, superb technology, unique filling process, quality assurance commitment, to achieve the best adiabatic effect. The surface anti-corrosion coating adopts sand blasting, rust removal, purging, spraying and other processes, and at the same time adopts two-component quick curing liquid coating.
  2. Safety technical performance:
  The storage tank adopts "combination and safety system valve", which USES two groups of safety valves to work at the same time. One side can be closed when the safety valve is regularly checked, and the other side can continue to work to ensure the safe operation of the storage tank.
  3. Operating system:
  Pressure gauge, differential pressure type liquid level meter and liquid level comparison table are set on the upper part of the container in the storage tank, which can keep track of the storage amount and pressure change of the container at any time, and facilitate the operation during filling and discharging.
  4. Detection system:
  Special vacuum detection, vacuum gauge and vacuum valve are set at the lower part of the storage tank, which can test the interlayer vacuum degree regularly or at any time with a vacuum meter to ensure the safe operation of the storage tank.
Features
The double-wall cryogenic liquid storage tank is made of 16MnDR alloy steel inside and Q235b carbon steel outside.Vertical (horizontal) structure, compact structure, low release date, small footprint, centralized control, safe and reliable, easy operation and maintenance.
2.The cryogenic liquid storage tank is a vacuum powder heat preservation type, and its structure consists of a content device and an external container, which can be divided into vertical and horizontal types.
Specifications
wo.
Model
Medium
Inner tank size (Dia*L*Thickness mm)
Outer tank size (Dia*L* Thickness iron)
Outer
size (Dia*H/L (mm)
Net
weight (Kg)
1
JSAA5-L/2.16
Carbon
dioxide
DN1400*2910*12/12
DN1900*3550*8/8/8
Φ1916*5229
4785
2
JSAAlCh 1/2. 16
Carbon
dioxide
DN1800*3490*14/14
DN2 300*4100*8/8
Φ2316*5965
7520
3
JSAA15- 1/2. 16
Carbon
dioxide
DN1900*4890*14/16
DN2400*5500*8/8/8
Φ2416*7402
10015
4
JSAA20- 1/2. 16
Carbon
dioxide
DN2100*5300*16/16
DN2600*5950*8/1G/10
Φ2616*7933
12905
5
JSAA30- 1/2. 16
Carbon
dioxide
DN2400*6100*18/20
DN2900*6780*10/10/10
Φ2920*8914
18170
6
JSAA50- 1/2. 16
Carbon
dioxide
DN2600*8980*20/22
DN3100*9670*10/10/12
Φ3120*11884
28240
7
JSAA6CH L/2. 16
Carbon
dioxide
DN2800*9250*22/22
DN3300*10170*12/12/12
Φ3324*12460
37170
8
JSAA100- 1/2. 16
Carbon
dioxide
DN3000* 13820*24/26
DN3500*14600*14/12/14
Φ3528*16933
59315
This is part of the model. According to customer requirements ,we accept customized.